Area Sales Manager, Gary Nelson, puts a new spin on some old business jargon.
October was an interesting month…
In any given month I get to speak to and visit lots of practices. Whilst some months are varied, other months there are some very common themes. October was a common-themed month along the lines of Communication, Leadership and People.
I think I have officially now lost count of how many conversations I have had, and blogs I have written, on these areas over the past few years.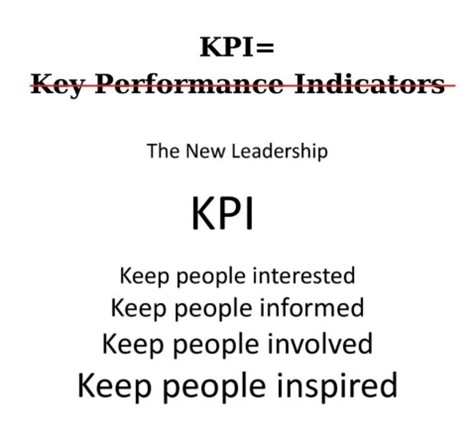 However, I recently came across the above graphic, which is an explanation of KPIs that I thought was just superb.
Anyone who knows me is aware of how much I'm not a fan of business acronyms. They all too often leave people asking, "a KPI…what does that mean?" and therefore misses the point of shortening the phrase altogether.
I digress, there is just so much media noise nowadays distracting people's attention, and your dental practice is a busier place than ever. People just seem to have so many distractions in their lives and are pretty tired right now of all the doom and gloom.
It is getting harder and harder to make the time to keep people on track, and by 'people' I mean the team and the patients.
To continually be successful in your business, you really do need to examine how you can keep your team and your patients interested, informed, involved, and inspired, each week and each month.
Perhaps now is a good time to ask yourself:
Is it time you looked at redesigning your communication plan for your team?
Is it time you looked at recommencing your communication plan for your patients?
I am beginning to see the start of a "welcoming new patients" theme starting on the social media channels across several practices and several areas.
Based on the above theme of KPI's:
Do your team members know the importance of new patients and are they involved in adding value to the patient journey?
Are you informing your patients of the importance of choosing you, and inspiring them to join you?
Now is a good time to consider the above KPIs themes and how you are:
Keeping people interested
Keeping people informed
Keeping people involved
Keeping people inspired
October was indeed an interesting and common-themed month which is perhaps best encapsulated by this KPI theme.
Get all blogs delivered to your inbox
By subscribing to our blog, you agree to receiving our monthly blog update and newsletter. You can unsubscribe at any time. The security of your personal data is very important to us and we will never sell your data to other companies. You can read more about how we protect your information and your rights by reading our privacy notice.