Eddie Crouch talks to Nigel Jones about the future of dentistry in light of the number of young dentists who are moving away from the traditional 'full time' career in dentistry, Often choosing to work part-time or explore multiple careers instead.
What you'll hear:
Why young dentists are choosing to mix careers or work in dentistry part-time
The impact on the profession and the patients
What a career in dentistry will look like in the future.
Who should listen:
Young dentists
Practice owners looking for associates or considering selling their practice
Anyone with an interest in the future of the dental profession.
About Eddie: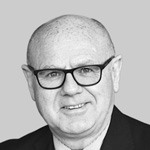 Eddie Crouch works in two practices in Birmingham. He is Chairman of the Birmingham Local Dental Committee, Vice Chairman of the British Dental Association Principal Executive Committee and past Chairman of Central Counties Branch of the British Dental Association.
Find out more about Bodcast here!
Get all blogs delivered to your inbox
By subscribing to our blog, you agree to receiving our monthly blog update and newsletter. You can unsubscribe at any time. The security of your personal data is very important to us and we will never sell your data to other companies. You can read more about how we protect your information and your rights by reading our privacy notice.