Easy Switch, Regional Support Manager, Amy Hansford, explains why moving your membership patients to Practice Plan is easier than ever before thanks to their new EASY SWITCH process…
During the 11 years I've worked at Practice Plan, one concern dentists have always had about changing plan provider is the disruption it could cause to their practice and to their patients. WELL, NOW THERE'S GOOD NEWS! With our new bulk transfer process, known as Easy Switch, you can now change your membership plans to Practice Plan with absolutely no action needed from your patients. After more than 25 years of helping practices join the Practice Plan family, we've taken our support one step further with Easy Switch – a way of moving plan provider that's as hassle-free as possible for you and your patients. Oak Lodge Dental in Liphook recently used the process to switch to Practice Plan after more than 10 years with Denplan. Jo Newsham, Practice Manager, said, "Easy switch meant no heavy administration process at our end – patient policies and collection instructions were automatically migrated to Practice Plan in one easy session, which streamlined the whole process. Our patients loved the fact they didn't have to take any action and this certainly meant we had minimal drop out. The reason lots of people don't want to change provider is because they think it's going to be a huge, messy complicated process and a lot of work – but this couldn't have been further away from that. It was seamless and I'm so pleased we've done it."
Easy switch meant no heavy administration process at our end

Jo Newsham, Practice Manager, Oak Lodge Dental
Here's how Easy Switch works
Once we have the information from you, we liaise with your previous provider and the banks to arrange the transfer of the patients to us. Only minimal admin is required from you, we take care of everything else. And, while your patients are notified of the change, they don't have to lift a finger. Barbara Pearce, Business Manager at Dental Studio in Chichester and Waterlooville, was one of the first to use Practice Plan's Easy Switch process after more than a decade of being with Denplan. She said,
"It was a really smooth way of doing it and fundamentally it worked really well. It would have been a huge amount of effort for patients without this process, but it's been a really positive experience. The bulk transfer was received really well by our patients and we've not lost any due to making this change. "Being able to offer like-for-like plans also made a big difference as we could reassure patients nothing would change for them. If anything, what they're getting from us is even better because they now have access to the Worldwide Dental Emergency Assistance Scheme, plus a range of bespoke membership benefits that we created in partnership with Practice Plan and that are tailored to our business.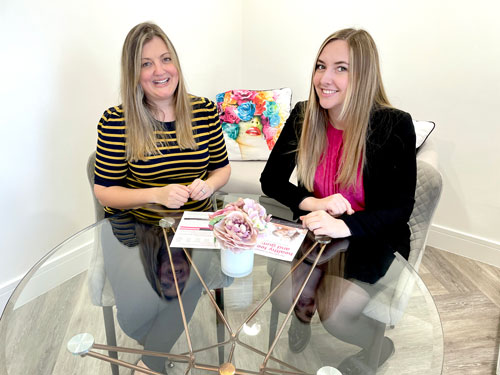 Amy supporting Kirsty, Dental Studio receptionist, with their dental plan
Savings you can't afford to ignore
The whole process takes just 12 weeks, so in three months you can be reaping the rewards of being part of the Practice Plan family. Benefits such as support from a field team with a combined experience of more than 300 years, many of which have been spent in practice, so they know first-hand the kinds of issues you've faced and how to solve them. Not to mention the fact that if you're currently with Denplan moving to us could mean big savings which can help you to invest in your practice and develop those ideas you have for building your business. Or maybe just create an even healthier profit margin. For example, did you know that if you have 1,000 patients on plan with Denplan you could save at least £50,000 over five years by moving to Practice Plan* That's a healthy injection of cash that can help you to pursue your dreams, whether it's extending the practice, adding more services to enhance the patient experience or upgrading equipment. Some providers seem intent on doing things as cheaply as possible (never recommended) and there are others who seem more interested in building their own brand above yours. However, at Practice Plan it's all about you – your brand, your patients, your business.
Proactive support from day one
Alongside regular team training we have a huge range of support available to help you achieve both your day-to-day goals and your bigger business ambitions. It's your practice and you're in control of its destiny. But we're there to bolster you with our knowledgeable and experienced head office team, a dedicated Regional Support Manager, expert business consultancy, events, a member-exclusive Resource and Learning Hub (including CPD) and an in-house marketing and design team. We're proactive and take steps to provide the help and guidance you need before you need it. We'll be there to support you every step of the way, whatever life throws at you. Jo added,
"If you're thinking about changing to Practice Plan via the Easy Switch process I would say, just do it. Don't be frightened of it, they have everything set up for you ready to go. We were guided through the whole process; it really is so easy. Amy, our Practice Plan Regional Support Manager, took us through every single stage, we had all the support and literature we needed for everything to move over. Plus, we're already reaping the rewards of wider support such as attending events and having a newsletter and social media posts created by their expert Design Team to help us communicate with patients. The costs are so much better for us, the flexibility of the plans and the support is brilliant, and the level of customer service we've had surpasses anyone else we work with by far."
If you want to talk about your options and how the Easy Switch process could work for you, call 01691 684165 or email info@practiceplan.co.uk
*Savings are based on standard plan membership fees 2022. Denplan fee includes insurance option and 0% family discount. Practice Plan includes eligibility to request assistance from the Worldwide Dental Emergency Assistance Scheme. The Practice Plan Worldwide Dental Emergency Assistance Scheme responds to requests for assistance on a wholly discretionary basis. Denplan insurance option creates a legal obligation to pay benefits when certain events occur. Prices correct at time of going to print.
Get all blogs delivered to your inbox
By subscribing to our blog, you agree to receiving our monthly blog update and newsletter. You can unsubscribe at any time. The security of your personal data is very important to us and we will never sell your data to other companies. You can read more about how we protect your information and your rights by reading our privacy notice.