Michelle Hardy, Sales Support Manager at Practice Plan, shares how to make the most of your first conversation about moving away from the NHS and towards private dentistry.
Whenever you're thinking about changing something important in your life, it's good to talk it through with someone. If you're an NHS dentist considering leaving the NHS, this definitely falls within that category. Making the decision to change the way you spend your working days has the potential to transform your, and your team's lives inside and outside the practice.
As NHS conversion experts who've helped hundreds of dentists to successfully make such a change, we know how life-altering it can be. 'I wish I'd done it sooner' is feedback we hear time and again from dentists who have taken their practice private.
Dentists like Teresa Kleinhans of Wensum Dental Practice. Teresa moved to private dentistry in 2021 after reaching a point where she felt she didn't want to work under the strain of an NHS contract anymore.
After making the move, she told us, 'The best way I can describe it is that I feel like I have got my life back. Now I'm practising privately, my pace of work is so much better.
'I work three days a week, 9am to 5pm – compared to the five days a week, 8am to 8pm that I was doing before. I know that I have definitely made the right decision and I'm glad I chose to do it with Practice Plan.
'I wanted some stability in income, but I also wanted the change to be fair for my patients in terms of value for money, which I feel Practice Plan's membership offers. I've fallen back in love with dentistry and am feeling optimistic about the future. Life is good.'
Confidential and no-obligation conversation
If, like many, you're feeling the pressure to meet ever-changing targets and the difficulties over the past few years have left you considering your future in the NHS, there's no harm in finding out what a different future could look like. Sometimes just knowing where to begin the journey out of the NHS is crucial and being able to talk through what your options are with an expert can really help to provide clarity. And it doesn't mean you have to move any further down that path to private practice if it turns out it's not right for you.
At Practice Plan we like to begin with a friendly, confidential, no-obligation chat. Just a conversation to find out more about you, what you want to achieve in your career, the kind of dentistry you want to do and your goals for the practice. During that conversation we ask questions to help us, and you, understand whether you're in a strong position to convert your practice to private.
Questions such as:
How long has the practice been established?
How long have you been the owner?
How strong are your relationships with your patients?
What are your patient demographics?
What is NHS availability like in your local area?
The answers to these questions, along with some financial number-crunching, can help us to work out how well-placed you are to make this kind of change.
If it turns out now isn't the best time for you to convert, we'll let you know. We'll also advise you on what steps you can take to be ready in the future, especially if you have decided that leaving the NHS is something you want to pursue at some point.
If you are in a strong position, then we'll guide you on how best to go about implementing such a change via our tried and tested five-stage process, to make it as seamless and stress-free for you, your team and your patients.
Teresa describes how having conversations like this when she was thinking about leaving the NHS helped her feel confident about the move.
She said, 'When I sat down and went through everything with Tina, our Regional Support Manager at Practice Plan, I remember her saying to me, 'Yes, this can definitely work'. That was such a relief, because I didn't want to go on in the NHS, it just wasn't working at all. Tina made sure we had everything in place to take the next steps and in May 2021, we got the ball rolling on the conversation.
'We knew we were starting off in the strongest position possible and things have only got better. Since then, everything has stabilised, the whole team is much less stressed, and my work/life balance is much better than it was.'
A future you're in control of
Ultimately, the decision will be yours, after all, it's your future. You get to decide if you want to go private, whether that be a full or a partial conversion, or not at all and stay as you are.
It's entirely up to you. But from a simple conversation with someone who has been there and done it many times over, you'll be able to make that decision from a position of knowledge. And that's really the point, this initial conversation will equip you with what you need to know, not just about how the process works, but how it could work for your specific practice.
If you're not sure you're ready to leave the NHS, but you're ready to talk about your options, there are plenty of ways to start your conversation.
To arrange your initial 121 chat, visit www.practiceplan.co.uk/nhsvirtual or call us on 01691 684165.
Whenever you are ready to talk, we're ready when you are.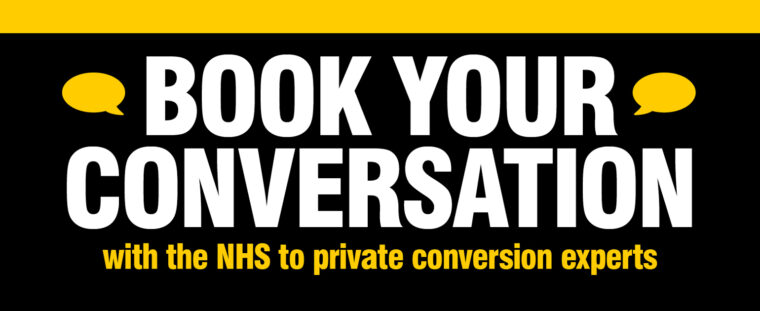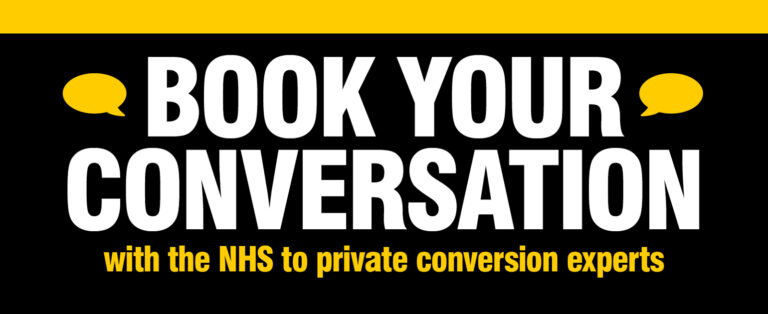 Get all blogs delivered to your inbox
By subscribing to our blog, you agree to receiving our monthly blog update and newsletter. You can unsubscribe at any time. The security of your personal data is very important to us and we will never sell your data to other companies. You can read more about how we protect your information and your rights by reading our privacy notice.