In my first blog that I wrote around four to five weeks after reopening, I spoke about how uncomfortable and cumbersome it was to work in the new levels of PPE.
We're now a further five or six weeks down the line and while last time I described how it felt as though all the finesse of dentistry had disappeared with the arrival of this PPE, I would say we have now got used to working in this way.
I still think the finesse has gone, but we're adapting and getting through it, and after working like this for several weeks we know what to expect and we're getting slicker. Things like donning and doffing are becoming second nature – it is still really uncomfortable though.
Some of the patients look at you in all this gear and say, "My God, is all that for this treatment?", and you're kind of thinking the same thing. It could be quite intimidating for a child, which I am a little concerned about, but I haven't had any children who have been freaked out about it so far and I think patients have reacted quite well.
They can see that we're doing something quite significant because it's so different to what they normally experience at the dentist.
Air purifiers and foggers
We didn't get any air purifiers, because it seemed like spending a lot of money on something that is there just to tell the patients that this might help. And most of our patients are looking at what we've done and they're happy with it, so it really doesn't seem necessary.
I did buy a fogger, but it never arrived and that really didn't alter how we work because there still isn't anything that categorically says that this mitigates anything. All the PHE talk about is air changes, not air purification or things like foggers.
I know some people are using the foggers to mitigate fallow time, which is fine. But I've been lucky that I've been able to double up on surgeries without it being a problem.
Working at 60% capacity, 100% intensity
Since the first blog on reopening, my capacity has increased significantly. We now have four dentists working in two teams on different shifts and each using two surgeries, which means fallow time hasn't affected us too badly. We've also got our hygienists back, with each working either in the morning or afternoon.
We're working at about 60% capacity, but at 100% intensity doing a six-hour session with no breaks. Normally you'll have 10 minutes here or there, now there's nothing. There is no room for manoeuvre, as pain appointments have got to be booked into those spaces.
New patient enquiries
We have had enquiries from new patients, particularly those who are somehow disillusioned with their existing practice. We're also getting enquiries from patients who have decided they now want to go ahead with treatment plans or they've decided during lockdown they want to have orthodontics.
We've opened a waiting list for new patients because we felt it wasn't particularly fair to book new patients in when you've not necessarily serviced the needs of your patients who are missing out on time.
But then you get capacity differences between different dentists, so we are trying to find space for them where we can.
It's very frustrating, it's like somebody has given you a never-ending supply of all-you-can-eat buffet and the smallest plate to put it on.
Working at 70% of normal turnover
Compared to where we were at this time last year, we're at about 70 – 75% of turnover, which I don't think is bad at all.
I was surprised that we'd returned so quickly to something that is workable with, especially when the capacity issue is so affected. Next month will show us whether that is a saturation point and it's not going to get any better than that.
But at the moment, I'm so booked up that I have no free space. I'm doing five days a week and I usually do three.
It's tough but given things like the turnover and the new patient enquiries, it means that even for a natural pessimist like me, the optimism is there.
I've said from day one: there are 69 million people out there with teeth in their heads and lots of them want to go and see their dentist. And they are in fact doing that, they are coming in to the practice.
I'm not going to say it's an exciting time, it's certainly not one you would or could have a business plan for. But I'm touching wood quite a lot and thinking, "I might be all right. I might get through this."
You can hear more from Simon about the reality of reopening, including a discussion of the one hour fallow time and the impact of quarantining after holidays, here.
About Simon: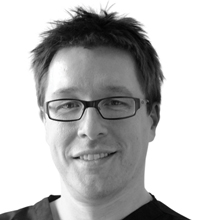 Simon has been a GDP since qualifying in 1991, initially in the NHS, and since 2005 in private practice in Nottinghamshire. Simon sits on the GDPC committee of the BDA and is also a past BDA Branch President for South Yorkshire.
Get all blogs delivered to your inbox
By subscribing to our blog, you agree to receiving our monthly blog update and newsletter. You can unsubscribe at any time. The security of your personal data is very important to us and we will never sell your data to other companies. You can read more about how we protect your information and your rights by reading our privacy notice.