Barry Oulton, dentist and communication expert, talks about the importance of communication during these changing times. He explains how to recognise areas of focus for the dental team and practice.
What you'll hear:
The importance of good communication
How to enhance every touchpoint with customers
Restrictions to communication from PPE
Where to improve the patient journey outside of an AGP appointment
Maximise patient confidence through team training on language skills
Who should listen:
Anyone in practice who communicates with a patient
Dentists who want to develop good relationships with their patients
Team members wanting to communicate better with colleagues
About Barry Oulton: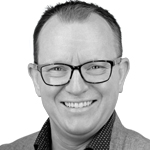 Dr. Barry Oulton is a practising dentist with over 25 years of experience and the owner of the award winning Haslemere Dental.
Barry is also a Master of NLP & hypnotherapy and runs the full-service training organisation 'The Confident Dentist' which specialises in effective communication training for dental practices.
Get all podcasts delivered to your inbox
By subscribing to our blog, you agree to receiving our monthly blog update and newsletter. You can unsubscribe at any time. The security of your personal data is very important to us and we will never sell your data to other companies. You can read more about how we protect your information and your rights by reading our privacy notice.