Les Jones shares his experiences as a 'mystery shopper'. Posing as a married mum of one who has recently moved and is looking for a dental practice, he completed a web enquiry form for a number of practices. Les talks about the responses he got, the opportunities practices missed and a number of simple but effective changes that can be implemented to convert more enquiries into patients.
What you'll hear:
The average value of a web enquiry
How taking control of your webform and responses could transform your practice
Practical tips on creating engaging responses
Who should listen:
Practice owners and managers who want to increase patient numbers
Team members who respond to web enquiries
Front desk teams
About Les: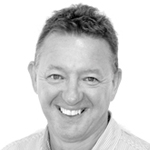 Not only is Les Creative Director at Practice Plan but he is also a professional designer, photographer and business speaker with over 30 years' experience in branding and marketing. He has been working specifically within the dental industry since 2010, helping dentists increase their profits and sales through the development of powerful collateral and the implementation of simple and effective marketing techniques.
Find out more about Bodcast here!
Get all podcasts delivered to your inbox
By subscribing to our blog, you agree to receiving our monthly blog update and newsletter. You can unsubscribe at any time. The security of your personal data is very important to us and we will never sell your data to other companies. You can read more about how we protect your information and your rights by reading our privacy notice.